In Memoriam - Ursula Arceneaux Markey
September 13, 1946 - December 22, 2008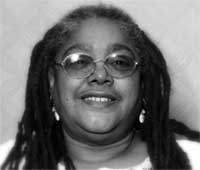 Ursula Markey, a much beloved leader in the social justice and disability advocacy communities in New Orleans, Louisiana, and the nation, died on December 22nd after a long struggle with diabetes. Read about her life and legacy:
Triangle Magazine Article, January 2009
Read Lady of Light, a poem by Ursula Markey.
Read the Times-Picayune Article about Ursula Markey.